Calderon putting the blame on Ronaldo?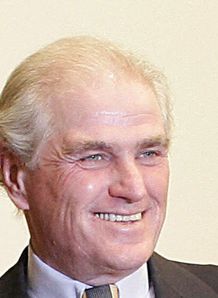 Yes, the transfer saga is over… but the war of words between both clubs hasn't ceased.
While Ferguson relishes Manchester United's success in keeping Ronaldo at Old Trafford, Real Madrid's Ramon Calderon refuses to accept defeat.
Now the President of the Spanish Giants has pointed out Cristiano Ronaldo as the cause of last summer's soap-opera.
"We have left that, it has been a very big story, which we didn't provoke," Calderon told Sky Sports News.
"The player said he wanted to come here, a dream to come to Real Madrid and we received and we were happy to know that," he continued, emphasizing on the influential greatness of his club.
"After that I talked to Manchester [United] but [chief executive] David Gill was very clear and said they did not want to sell at all.
"We want to have a good relation with all the big clubs in Europe and Manchester [United] is one of the best and I would like to have a good relationship with them forever, and they said for the moment no.
There is a sensation that Calderon regrets what happened in the summer. Certainly, El Supremo would have reacted differently if Ronaldo's capture was a deal done and dusted.
So was Madrid's hunt for the 23 year old Star winger a voluntary mission for Calderon, or a risky business in which he would not have entered if not because of Ronaldo's wish to join his team?
Whatsoever, the President – who is presently enduring a tough La Liga season dominated by rivals Barcelona – still had some kind regards towards the Portuguese winger:
"I know the media in general like to give excitement to their readers and listeners and Cristiano Ronaldo is a fantastic player and he has won the Golden Ball – and I congratulate him on that and I wish him the best – regardless of where he is going to be in the future."
Perhaps Ramon Calderon wanted to hit back at Fergie's comments when he said "I wish him the best – regardless of where he is going to be in the future." A couple of weeks ago, the Scottish boss was quoted as saying by France Football that he wished Ronaldo could win a lot more awards, before adding that he would love to see him achieve this under a Manchester United jersey of course.
Meanwhile, according to the Spanish media El Mundo, Real Madrid are preparing another deal to sign Ronaldo next summer – this time for real – from Manchester United. This news is only a rumour, though. But the transcript of a conversation – released by El Mundo – between Pedro Trapote and President Ramon Calderon after Madrid's loss to Barcelona, reveals how true this report could be:
"If you are asking me what we are going to do now then I would tell you that we have already signed the best player for the summer," Trapote is quoted as saying.
"Are you talking about Cristiano?" was the reply (probably made by Calderon).
"The best of the best. It is Cristiano, there is no other. It is better that we do not say anything at the moment though.
"Why can you not say anything. It is the best time because things are going badly and people need something to excite them in the middle of all this.
"No, it is best to not say anything because there are some clauses that prevent us from announcing it now. For us it would be a good time, but should not do that. But it is not bad, eh?"
Well, secret words gone public! Watch out next summer if Madrid doesn't win a title this season. The fight for saviour Cristiano Ronaldo may be stronger than ever.
Written by: Angela Asante