Ronaldo to find back his scoring boots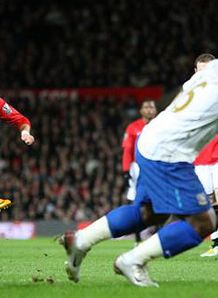 The Premier League comes on this weekend with Manchester United playing at home to Everton in Saturday's late kick off.
All eyes will be on Cristiano Ronaldo, as he is expected to continue with his recent improved form.
The Portuguese winger – whose brace last season ensured Manchester United's last victory over the Toffees – scored three goals in his last four games for the Reds, two of which came earlier on Tuesday against West Bromwich Albion.
Ronaldo is now up to fourth in the EPL Goal King Chart, sharing the place with Wigan's Egyptian sensation Amr Zaki who also has ten goals in his name.
Retaining the Golden Boot title is obviously a difficult task for Ronaldo as he did not get things right this year. Besides missing Manchester United's opening games, he also had three good goals wrongly disallowed – against Tottenham and Chelsea, in addition to the fact that he had at times appeals on penalty controversially denied (like against Middlesbrough when Pogatetz crushed him to the ground in the box).
It's true that all this – which is due to bad luck and, who knows, conspiracy – has prevented Ronaldo from shining bright this year.
But his brace against the Baggies this week might be a sign that he can only get better, and that he's just finding back his excellent form.
Ronaldo overcame the fate of death when his car crashed at the start of the year 2009; perhaps he will overcome critics and silence the living by finding back his killer instinct in front of goal.
Written by: Angela Asante