Cristiano Ronaldo picks up his Ballon d'Or in Paris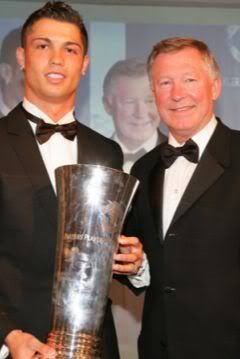 Portugal and Manchester United Star winger Cristiano Ronaldo was in Paris on Sunday to officially receive the Ballon d'Or.
The European Player of the Year now named as the World's Best Player by France Football, enjoyed a landslide victory against Barcelona's Lionel Messi and Liverpool's Fernando Torres who had to settle for the second and third place respectively.
Speaking to the French channel TF1, Cristiano Ronaldo avowed once again his emotions:
"I'm very, very happy," he said, "It's a dream I've had since I was younger, I've always dreamed about winning it one day."
The youngest Aveiro then went on to dedicate the award to his family:
"I'm very moved, very happy and I'd like to take this opportunity to dedicate this trophy to my family, they've helped me get here,"
"The trophy is splendid, marvellous, very beautiful. I've waited for this," Ronaldo added.
Not forgetting the work of his club mates, the Manchester United Star winger continued:
"But I'd like to thank my fellow professionals especially my team-mates without whom I wouldn't have been able to win the Ballon d'Or.
"It's also thanks to them that I have this award."
Ronaldo also shared his sentiments with the people by explaining why he was so emotional.
"I was 18 when I came to Manchester, very young. I always had great hopes of becoming a great footballer, in Europe and the world and that's what I've always tried to do – to improve year by year.
"Of course it's not been easy but I don't regret anything that I've done to get here.
"I always dreamed of lifting this trophy and it's thanks to God that I have it now."
His manager Sir Alex Ferguson hailed the him for such an amazing season, and revealed that he would love to see Ronaldo winning more of those:
"Of course he can win it again," Ferguson said on TF1.
"He's only starting his career. We expect, and I think Cristiano also expects, him to improve.
"I think that when a player gets to 26 that's when they begin to mature so these next three or four years for Cristiano will prove my point. He'll win more and I hope he'll win them at Manchester United.
"Everyone at the club is delighted to see him get this prize because it represents the best award you can get as a footballer, this individual prize.
"He really deserved it when you look at what he did this year, 42 goals from a wing position is amazing."
"It's a long time, 40 years, since (George) Best got it so I'm delighted that we have another prestigious moment.
"It's also part of the legend of Cristiano Ronaldo."
The legend of the proud King Ronaldo has effectively just commenced. But what will the rest of the story tell? Perhaps the road of success is still long like Fergie mentioned; perhaps the next step to Ronaldo's arrogance – if it is so – is his downfall…
Written by: Angela Asante