Cristiano Ronaldo adores Ferguson "the Great"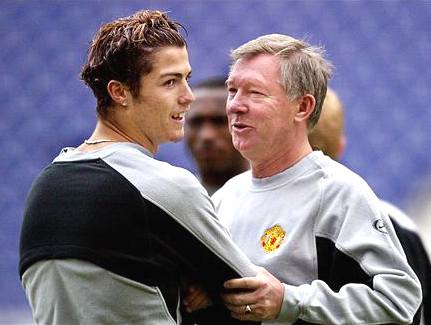 The story of Cristiano Ronaldo Dos Santos Aveiro is the tale of an ambitious boy achieving his dream of becoming the world's best.
The former Sporting Lisbon starlet – now a Red Devil player – has developed into one of the biggest conqueror in world football.
The Portuguese has collected many of Manchester United Football Club honours including the Busby award. His skills and determination have helped him integrate in the Manchester United family and for that, Ronaldo pays tribute to none other but one of his 'fathers', Sir Alex Ferguson :
"The boss is always important for me, not just last season but every season," Ronaldo stated.
"I am at this club because of him. He saw me in a few games before I played against Manchester United – people think I came here just because I played [well] against United but it's not true.
"He has always helped me and I said to him, 'I want to be part of this club with you. I want to win trophies with you.' He's very important in my career, Sir Alex Ferguson ."
In fact, the old Scot is the one who made Ronaldo stay at United in a heart-to-heart conversation that closed the transfer soap opera on this note: Ronaldo remains at Old Trafford.
Cristiano Ronaldo 's destiny surely wouldn't have been the same if he had not sacrificed his life for football. As revealed by his beloved mother Dolores Aveiro , Ronaldo might have fallen into drugs and alcohol, which would have ruined his fate.
But the grown kid from Madeira is now on top of the world after a successful year; and perhaps he sees Ferguson like the person who opened the door to the new world of his dreams, the world of professional soccer where he is now a high profiled player and a reigning king.
Written by: Angela Asante