Being a football legend is all about staying at the top level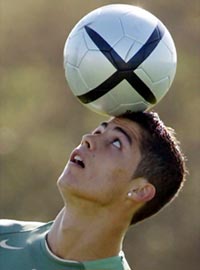 Cristiano Ronaldo won every club title with Manchester United in his career, and last season was certainly his most memorable year so far as a Red Devil, as his dazzling consistent form helped Manchester United clinch the EPL, the Champions League and, the Fifa World Club Cup titles in a fashionable manner.
So this time round, what more does Ronaldo want to achieve?
Speaking to the media some time ago, the Star winger explained that his goal was to help Manchester United repeat last season's achievement and possibly win all four trophies.
Already a celebrated player worldwide following the outstanding performances he had throughout the 2007/08 season, Cristiano Ronaldo is poised to be ranked amongst football's elites in the history of the game in an unarguable way.
The talismanic winger – portrayed by the legendary Sir Bobby Charlton as Manchester United's greatest number 7 player – has set his dream on reaching the heights of players like Brazil's Pele, and he knows that it will only possible by maintaining his top form:
"I've spoken to some experienced players who have a great history in the game and they've said, 'it's not what you do in one season; it's staying at the top level,' that is the challenge," Ronaldo declared speaking to Manchester United's official website.
"I have to carry on like that. If I don't perform, I know people will start to criticize me and I don't want that. I'm an ambitious player and I want to win many, many more things."
The road ahead of the Premiership titleholders Manchester United looks bright on all four fronts this season, so Ronaldo's dream of winning the quadruple is very much a possibility.
Now the question remains: how influential and helpful can Ronaldo be to his club Manchester United this year? And if Manchester indeed clinch at least a double, where will he be ranked amongst other players like Berbatov or Rooney in the club's achievement at the end of the season?
Certainly, the goal scoring factor has an impact on the general judgment over Ronaldo's performance, but the 24 year old is confident that he can finish the season on high:
"I want more – this season I want to score the same amount of goals or more if it's possible. I know it will be hard, but I have it in my head that it's possible."
Written by: Angela Asante